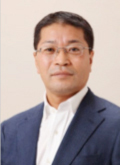 Our role in the printing industry has changed significantly under diversitised information society nowadays. Every ways of information propagation are in demand.

Ever since Fine Label was established, our company motto is "customer creed". Our greatest strength and value is to challenge and explore new possibilities in every way. We listen to customers and employees to discuss and share ideas for better product.

We believe that we can become one of your most trusted business partner. Fine Label will continue to challenge for new possibilities, a company who finds its own path.

Company Name
Fine Label Inc.,
Head Quarter
5-1130, Hirosawa-cho, Kiryu, Gunma 376-0013 Japan
Tel : +81-277-54-4557 FAX : +81-277-54-4558
※For any questions about our products and services in English, please contact below Iwata (iwata@fine-label.co.jp) for further assistance.

Tokyo office
Matsuura Bldg. 4F,1-26-2, Suda-cho, Chiyoda-ku, Tokyo 101-0041 Japan
Tel : +81-3-6231-4557 Fax : +81-3-6231-4558
※For any questions about our products and services in English, please contact below Iwata (iwata@fine-label.co.jp) for further assistance.
Website
Fine Label http://www.fine-label.co.jp/
NFC Tags http://www.nfctags.co.jp/
Paid-in-Capital
10 million yen
Accounting closing month
June
Representative Director
Hiroshi Yamakami
Number of Employees
27
Description of Business
Printing and manufacturing custom-made labels, stickers and RFID labels
Authentication Technology
ISO9001 certification
Green Printing Factory (Printing Division)
"1社1技術" of Gunma
Privacy Mark certification
Privacy Policy
>>Click here for details

February 1987
Fine Label was founded as a private limited company, paid-in-capital of 5 million yen.
Hiroshi Yamakami took chairman of the president.
December 2000
Increase in capital of 10 million yen
March 2001
Reorganized company to Finelael Inc.,
Certified by ISO9001
July 2006
Opened Tokyo office
December 2008
Certified by "1社1技術" of Gunma
June 2009
Certified by Green Printing Factory (Printing Division)
December 2010
Certified by Privacy Mark

Head Quarter / Factory
| | | |
| --- | --- | --- |
| 5-1130, Hirosawa-cho, Kiryu, Gunma 376-0013 Japan | TEL:+81-277-54-4557 | FAX:+81-277-54-4558 |
大きな地図で見る
Tokyo office
| | | |
| --- | --- | --- |
| Matsuura Bldg. 4F,1-26-2, Suda-cho, Chiyoda-ku, Tokyo 101-0041 Japan | TEL:+81-3-6231-4557 | FAX:+81-3-6231-4558 |

[Basic Philosophy]
Fine Label recognizes that the global environmental problems as one of the most important humankind issues. We share high moral values and are continuously implementing activities to preserve the environment.


[Basic Policy]
Fine Label, its core business of printing and processing, considers that every business activities including sales, production and business management have environmental impact and will continue to compliant the environment management as stated below.
1.To continuously improve environmental management by establishing an in-house environmental department.
2.To continuously improve the quality of the environmental management by establishing independent guidelines in addition to the basic law.
3.Important topics of our environmental management.
1.Use and develope eco-friendly materials and products.
2.Manage, reduce and recycle materials.
3.Reduce consumption of electricity.
4.Drive low energy vehicles.
5.Use recycled paper.
6.Provide environmental information if requested from end-users and customers.
4.To share information which may have positive effect on preserving the environment if necessary. Information includes technology, know-how, products and environment management.
5.To guide the trend of society by developing safe and low energy products.
6.To improve environmental management by internal environment auditing.
7.To share common sense of environmental policies among all employees by in-house training and publication. This environmental policy will be open to public.
Established in 1st April 2009
Revised in 26th March 2010
Fine Label Inc., Hiroshi Yamakami

Quality Policy
Fine Label strives to develop attractive products for our customer's satisfaction and trust. We, as a team, will set up a quality level and will continuously review its business activity.
Quality Management Structure
Fine Label established quality management structure to compliant to ISO 9001 for the highest customer satisfaction.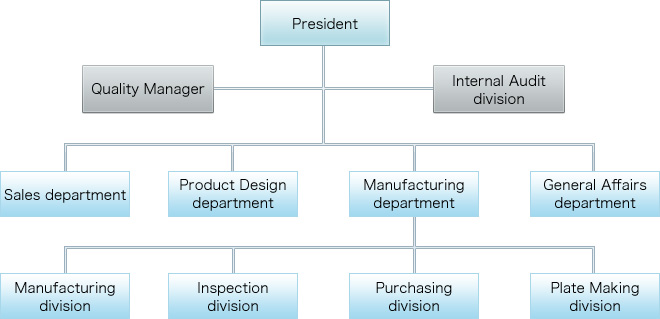 Established in 1st July 2009
Fine Label Inc., Hiroshi Yamakami

▲PAGETOP